Village Office
Village of Vilna - Box 10, Vilna AB   T0A 3L0
780-636-3620 Phone
780-636-3022 Fax
vilna@mcsnet.ca
CAO Earla Wagar
COUNCIL
Village Council
Mayor Leo Chapdelaine
Deputy Mayor Don Romanko
Councillor Roy Dyck 
2021 is Municipal Election Year. (October 18, 2021)
If you are considering making a contribution to your Village you can get information at the Village Office.  
Municipal Taxes
Taxes for the fiscal year of 2021 will be levied at the end of May with balance being due and payable on June 30, 2021.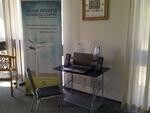 Business Development            
Vilna is one of the very first recipients of a Rural Alberta Business Centre (RABC). This space in the Village office offers a Wi-Fi connected computer that is available to business owners for their use, if needed. Also, the RABC Advisor is available by phone, email, webinars, live streaming of training events, assistance with business plans, and a whole host of other supports for business. Vilna is a great place to set up your small business, light industrial, or commercial business. Call the Village office and speak to the Administrator about how we can help you.

 
Water Service
Residential water rates are $20.00 per month base charge for water plus an additional charge for water at  $4.3575 per m3 which can change from time to time. Vilna is receiving water from the Regional Water Line from Edmonton since spring of 2014. Vilna is a member of the Highway 28/63 Regional Water Commission based in Smoky Lake County offices.
Sewage / Waste Management
Residential sewage rates are 17.00/ mo. The commercial rate is a flat rate charged by the Village depending on the type of business. Garbage is picked up weekly, currently on Wednesday mornings - garbage must be out by 9:00am. Residential garbage/landfill charge is $25 / mo. Commercial rates vary depending on type of business. Contact the office for more information.  
Garbage is picked up on Wednesday mornings.  Please have your garbage out by 8:00 a.m.

An RV sanitary sewage dump is located at 4840-49 Ave.

All rates will vary for commercial and multi-residential depending on the type and size.
 
Bi-Monthly News
To read up on the activities and news of Vilna, check out our Newsletters  
 
Safety Deposit Boxes
When the Village Office moved into the former TD Bank building, it also took over its Safety Deposit Box service. For as low as $31 rent annually, you will have a safe place to store for all your valuables...locally. Call our office for details at 780-636-3620 or E-mail us at vilna@mcsnet.ca
 
Business Licenses
For an in town business license - $10 per year. Other rates apply for out of town business licenses. Download a copy or the application and send it to the Village Office. Business License Application
Building Permits
Local development permits are $25. Contact the Village Office if you plan on doing any type of development in or on your property to learn what permits you may require. The Inspections Group is the issuer of Safety Code Permits for Vilna for all building, electrical, plumbing and gas permits, available at this link -  Forms and Permits
Dog License Fees
Dog License Fees start at $10 per year and are available at the Village office. If you have a dog, you are required to have a license annually. Stop in at the Village Office 5135 - 50 Street or call 780-636-3620.
 
Bonnie Lake Campground
Open May 1 - October 1
 
Enjoy clean and quiet fishing, swimming and boating only a 5 minute drive from Vilna's downtown and a 5 minute walk to the Vilna Golf Course. This municipally owned camping facility features 40 sites, playgrounds, ball park, cookhouse for only $20/ night for non-power sites and $25 (15amp), $30 (30 amp) / night for power sites (seasonal rates available). Firewood is delivered to your site as needed for a reasonable fee. 
For reservations
call or text Matt at 780-656-8984, or email:  bonnielakecampground@gmail.com