Our Community Profile...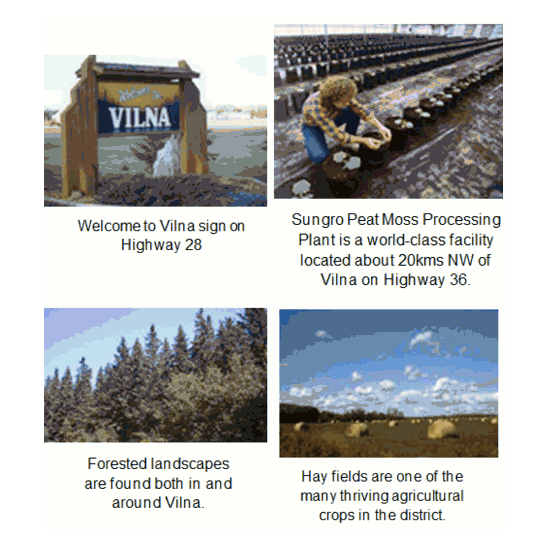 Quality of Life
The Village of Vilna's friendly small town atmosphere offers young people, families and seniors alike an outstanding blend of recreational activities that compliment our core and comfort services. This and the work of our many volunteers and club organizations ensures a great quality of life for anyone.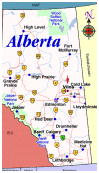 Location
The Village of Vilna is located in the east-central Alberta County of Smoky Lake, approximately 1 1/2 hour's drive from Edmonton's east city limit and Cold Lake's west limit on Highway 28, 3 1/2 hours drive north to Fort McMurray, 3/4 hour to LacLaBiche and 1/2 hour drive east to the Town of St. Paul, enjoying its great location on a major transportation artery and its proximity to farms, lake resorts and First Nations reserves. 20 minutes to the west is the Town of Smoky Lake.

Area Overview The Village of Vilna is a thriving community of approximately 300 residents located in the Lakeland and Kalyna Country tourism districts. The local economy is vibrant and varied, including agriculture, peat processing, retail, tourism, forestry, oilfield and  construction.       

Economic Base
The economic base of Vilna is agriculture and natural resources. It has a trading area of over 6000+. The agricultural industry benefits from a variety of agricultural resources including low cost grazing lands to the north, good quality, flat crop lands to the west, a climate suitable for most crops and ready access to processing facilities, and a large domestic market in Edmonton. Primary natural resources in the area are large deposits of natural gas, extensive areas of peat, and some forested areas suitable for logging.

A regional board of council members of Vilna, Waskatenau, Smoky Lake and the County of Smoky Lake work collaboratively and meet at least monthly to promote economic development initiatives.
Economic Factors
Vilna is approximately 1/2 way between Edmonton and Cold Lake Oilsands and approximately 1 hour to Bonnyville. Many find Vilna's cost of living more attractive than those in Ft. McMurray, Cold Lake and Bonnyville.

A major industry in the nearby rural area is a peat processing plant which harvests, dries and ships peat to Edmonton for containerization and distribution. Large areas of undeveloped peat lands are located in the regions to the northwest of Vilna.

Tourism and Cottage Country is regarded as significant growth industries for the Village and the surrounding lakeland area and is viewed as having significant potential for eco-tourism oriented ventures.

In addition, there are numerous small business enterprises starting to evolve as rapidly changing economic factors encourage the large Edmonton market to look closer to home for vacation and recreation opportunities. As well, the restoration of Vilna's historic main street and its recent $600,000 streetscape improvements are also designed to attract business and tourism to Vilna and district. For those working in the oilfield, Vilna is a very affordable living alternative to Ft. McMurray, Cold Lake and Bonnyville areas.

Housing
Whether it's a weekend retreat, summer home, retirement living or a new beginning, market shoppers will find something in their budget. Houses to purchase in Vilna range from around $60,000 to $180,000 while an average rent payment is $800/mo. There are about 50 homes at Bonnie Lake Resorts, just 1 mile east and 1 mile north of Vilna.

There is also a modern recently renovated senior's lodge and Alzheimer's unit and eight self-contained apartment units available locally under the management of the Smoky Lake Foundation for senior's housing.
[Tel: 780-656-4217] 

Education
Vilna is part of the Aspen View Public School Division No.78 headquartered in Athabasca [Tel: 780-675-2273]. Vilna School provides education for Grades K to 12. For information call 780-636-3651.  There is a full campus of Portage College in LacLaBiche just 45 minutes north.

Post-secondary programs and courses are available in St. Paul through the St. Paul campuses of Portage College and Lakeland College. Other programs available in St. Paul include Alberta Vocational College and
                                Blue Quills First Nations College.

Recreation
The Iron Horse Trail runs straight through the Village on the old rail line easement. A non-profit group called NE Muni-Corr takes care of the Trail and ensures that it is well maintained for all kinds of recreation - hiking, 4 wheel recreational vehicles, snowmobiles, horses etc. Check out their website at http://www.ironhorsetrail.ca/
Health Care
Our Lady's Health Centre [Tel: 780-636-3533] is located in Vilna and houses medical clinics and diagnostic lab and X-ray services 4 days a week. There is also a modern recently renovated senior's lodge and eight self-contained units available locally. Home care health and support services are also available.


Emergency Services 911
Paramedic and ambulance service is available locally. Vilna is served by the Smoky Lake County detachment of the RCMP and Rural Crime Watch. An experienced and very active volunteer fire department is fully equipped with a new firehall, two fire trucks, a water tanker, personnel transport vehicle, quick response unit, and an emergency rescue van.  
Highways
Connecting highways include Highway 28, leading west to Edmonton and east to Bonnyville [via Highway 28A]. Highway 28 is the main highway connecting Edmonton with the Lakeland tourism region and the Cold Lake oilsands and military air base.

Highway 36, about 5 minutes west of the Village of Vilna, provides direct paved access to Lac La Biche and to Fort McMurray and the Athabasca Tar Sands developments.

Secondary Highway 855 provides access southward via Highways 45 and 16 to the eastern provinces and to the south and east sectors of the province.

Transportation
National and International air service is available through the Edmonton International Airport, approximately 2 hours drive southwest. An all-weather airport is located about a 1/2 hour drive to the east beside the Town of St. Paul. To the west, a grass air strip is located beside the Town of Smoky Lake. It is maintained for casual summer use.                                                                           
Bus Services
Northern Express Bus Lines operates a daily passenger service between Cold Lake and Edmonton stopping at St. Paul Co-op Mall, Smoky Lake Esso going both east and west daily. Their phone # 780-926-0808 and their website is http://northernexpress.ca/routes/cold-lake-edmonton/
Trucking Firms
Several trucking firms serve Vilna and region, providing general and specialized transportation services, including freight and livestock hauling. Check the business directory for more information.

Newspapers, Radio & "Free" Television
Daily newspapers include: Edmonton Journal, Edmonton Sun and National Post. Weekly newspapers include:
The Smoky Lake Signal, St. Paul Journal and the Redwater Review.
Edmonton, St. Paul and Bonnyville AM/FM radio service can be picked up locally although there are no local radio stations situated in Vilna.  You can also still pick up local Edmonton television with some rabbit ears or antennae.

Internet and Satellite TV is offered through a number of providers.